03 September 2012
Published by Joy
On July 19, 2010, I started reading this wonderful blog named A Holy Experience. On it, Ann Voskamp talked about being thankful and how you can always find a blessing. She suggested keeping track of those blessings. I am so glad she did. I have noticed a big change in how I look at things. I don't worry as much as I used to either. By looking at what all God has blessed us with during the good and the bad time times, I know that God is always with us no matter what. I have been putting my faith and trust in God so much more since I began this back in 2010. I plan on continuing counting my blessings every day for as long as I can.  While she had suggested counting a 1000 gifts in one year, it has taken me a little over two years to reach 1000.  I am excited about reaching this number and looking forward to counting many more.  Some of these I have counted before, but feel like they should be counted more often.
991.  Having the freedom to homeschool my children.
992.  Being able to stay home with my children.
993.  My husband of 20 years. (We celebrate 20 years on October 3rd of this year)
994.  My four children (Michael-19, Sarah-14, Samuel-8 and Claire-6.)
995.  My parents for raising me in a living Christian home.
996.  The Word of God to live by.
997.  Hubby's job with great insurance.
998.  God providing us with a place to live.
999.  His mercy and grace that He gives me daily.
1000.  Jesus, dying on the cross to save a poor wretched person, like me.
I would love for you to join in counting the many blessings that God gives. Stop by A Holy Experience and visit others who are also sharing their many blessings.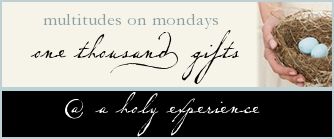 Share and Enjoy
No Comments